This article will explain the Trend section in SEMdoc Overview dashboard
The Trend section is directed to the account's trend of conversions over time:
YoY- Changes in conversions year over year.
MoM - Changes in conversions month over month.
Quality score - Changes made to your Google Ads quality score. 0% means no changes.
SEMDOC Score - Changes to your SEMdoc score.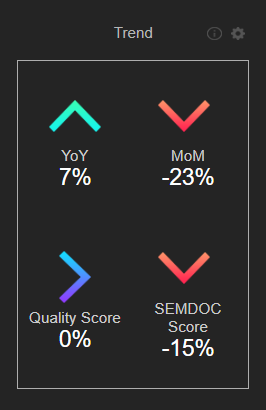 NOTE: You can modify the priority of each section according to its relevance to the account by clicking the settings icon. After adjusting priority, click "save" and the dashboard will re-calculate the data presented