This article will explain the dynamic search campaign creation process.
Dynamic Campaigns from Adcore are based on data feeds. In order to build your campaign, make sure your data feed is ready to use. How can you prepare your data feed?
Think about the elements in your feed that you would like to include in the campaign (Campaign Name, Ad groups division, Ads components).
Make sure the text in your columns doesn't exceed Google's character count.
Include your Keywords into the feed.
Make sure your Price is updated with your currency.
For creating a dynamic search campaign we will use Keywords & Ads tabs.
Choose
תבחר את החשבון-
Step 1:
In the Keywords tab:
1. In the top toolbar Click

2. Select your feed/feed version
3. Select "Create New" under Target campaigns (or choose target existing campaign)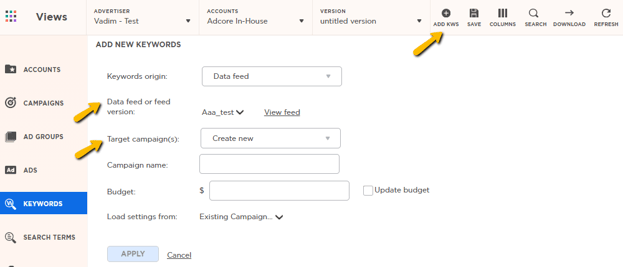 4. Set a campaign name, starting budget, and load settings from an existing campaign.
5. Set Ad groups & bids.
You can create multiple campaigns in one action, by using dynamic values.
6. Choose sync type in the campaign, ad group, and keyword level.
7. Set the KWs (you must insert a text, bid, and URL).
8. click the "Apply" button.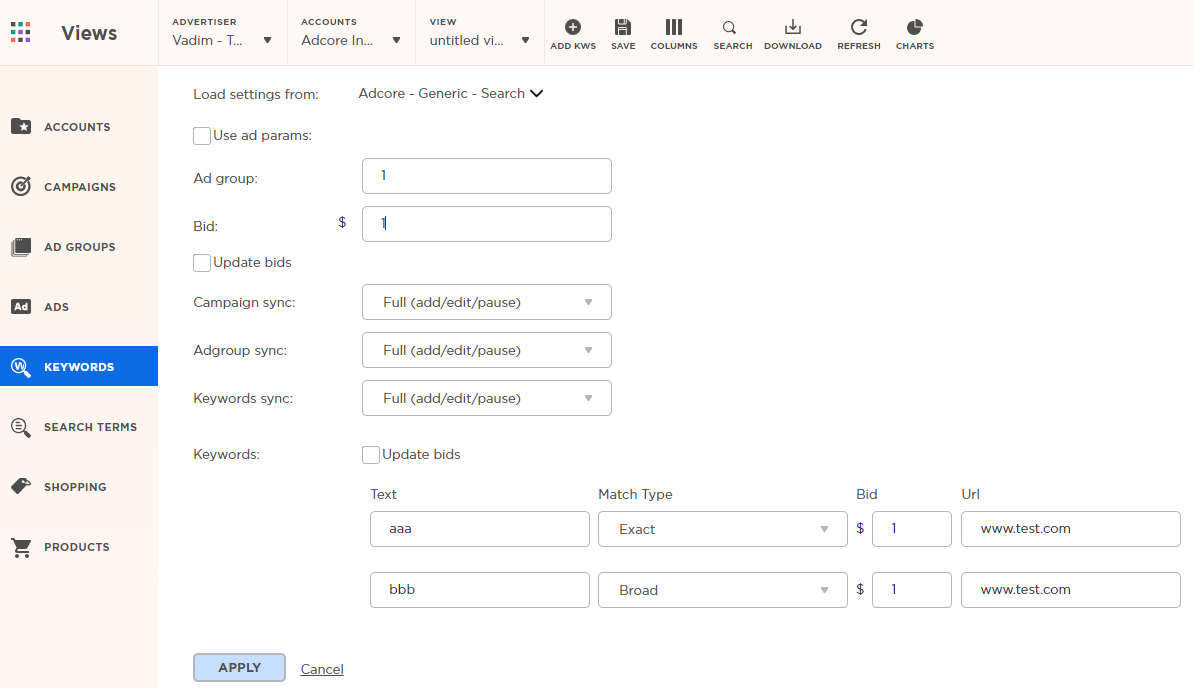 *You can change the view name by clicking the View field at the top menu:

Step 2:
1. Move to the "Ads" tab and Click

.
2. The campaign setting that you set in the KWs tab should appear.
3. Choose the sync type in the ads level.

4. Click +Ad and choose Text Ad/ RSA
5. Start writing the ads.
6. If you use dynamic values in the ads, make sure to include them also in the ad groups.
7. In the Final URL field, please use a static value (the domain of the website)
8. In order to use numeric values (such as price, percentages etc.), use Ad Params.
9. 8. click the "Apply" button.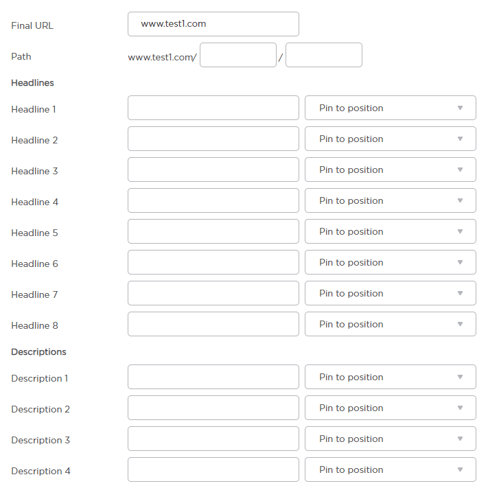 Step 3:
To run the campaign, click on the "Export" button at the top menu.
choose the frequency:
Now / One time - will run this action once.
You can also schedule the runs (so it would run every hour/ day/ week for example)